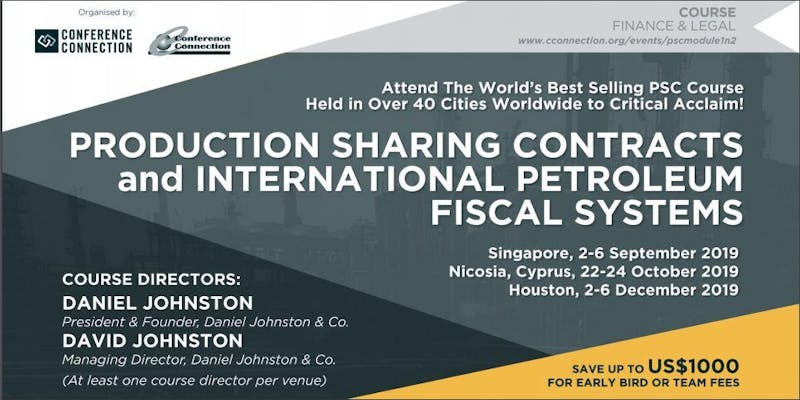 A Global Course for State-of-the-Art Theory, Practice & Techniques in Fiscal System, Analysis & Design
The Production Sharing Contracts course provides critical information to create the right commercial framework for successful PSC negotiations. It examines state-of-the-art practice and techniques in fiscal system, analysis and design. PSCs in over 45 countries will be examined. A must for all senior managers in new ventures, exploration, corporate planning, geology, as well as petroleum negotiators, oil company legal counsel, advisers, geologists and engineers. 

Module 1
Examination of current PSC developments through a wide variety of economic, geological and fiscal scenarios that exist worldwide for the first 3 days. Get a detailed assessment of worldwide fiscal systems, industry metrics, trends and variations in:
PSCs/PSAs, Royalty/Tax Systems, Service Agreements, Risk Service Contracts, EOR PSCs
Negotiation & Commercial Terms
Government & Contractor Take, Effective Royalty Rate
Rate of Return Systems & R-Factors
Ringfencing, Relinquishment, Bonuses, Goldplating
Global Market for Exploration Acreage
The Biggest Concern of National Oil Companies

Module 2
An additional 4th & 5th day will feature practical computer-based basic of petroleum risk analysis and decision theory, progressing to finer points of economic modelling in the international area.

Attractive early bird and team fees available! Contact us NOW at 
T: +65 6338 0064
W: http://www.cconnection.org/events/pscmodule1n2/
E: info@cconnection.org  
New service from OilVoice
Trip Shepherd
is for companies who need to track their staff in areas of risk.
It's free to use, so we invite you to
try it
.