Infrastructure & Services Needed to Facilitate Continued Oil and Gas Development and Growing Exports Place Midstream Providers in Spotlight
HOUSTON (November 5, 2019) – EnergyPoint Research, the leading provider of customer satisfaction ratings for the oil and gas industry, announces results from its 2019 Oil & Gas Midstream Services Customer Satisfaction Survey. The independent survey, which has been conducted ten times since 2003, is part of EnergyPoint's growing series of studies focused on the industry's satisfaction with the products and services it utilizes and depends upon. A total of 31 U.S. and Canadian midstream companies received the minimum number of evaluations needed to be included in this year's rankings.
MPLX, driven by rating for affiliates MarkWest Energy and Andeavor Logistics, received the top rating in this year's survey. This is the third consecutive year the company placed first overall in the survey. Plains All American was the survey's runner up, followed by Crestwood Midstream, AltaGas and Boardwalk Pipeline, respectively.
"While takeaway issues and delays in various projects have been in the news, the role that midstream companies have played in enabling domestic producers to set production and export records should not be overlooked," said Doug Sheridan, Managing Director and founder of EnergyPoint Research. "The sector has not only developed and maintained the well-to-market infrastructure needed to make it all possible, it's kept its operational and financial footing along the way. The sector deserves credit."
In addition to garnering the top overall rating, MPLX-MarkWest-Andeavor rated first in four other categories, including onshore gas gathering, HSE, the Permian Basin, and the Appalachian Basin–Marcellus. Plains All American rated first in five categories, including operations, onshore crude gathering, crude transportation, Onshore Gulf Coast and the U.S. Rockies.
Listed alphabetically, other companies rating first in at least one category in the survey include:
AltaGas in gas processing and treating, gas and NGL purchasing, and in Canada;
Boardwalk Pipeline in gas storage and in the Ark-La-Tex;
Crestwood Midstream service and professionalism, gas transportation, and in the Bakken – Dakotas;
Enable Midstream in the Mid-continent;
EnLink Midstream in NGL Fractionation;
Gibson Energy in crude storage and terminaling;
NGL Energy Partners in water management;
Oryx Midstream in project development, and in systems and administration;
Phillips 66 Midstream in NGL transportation and storage, and in Texas Intrastate;
Shell Midstream in the Gulf of Mexico;
USA Compression in gas compression services
Sheridan further noted, "As the role and importance of midstream providers in North American oil and gas development continues to grow, EnergyPoint has expanded both the number of companies and service segments included in its annual survey. This year's study includes ratings for 31 midstream providers, five of which are survey newcomers. Water management was also added to the survey as a new service category."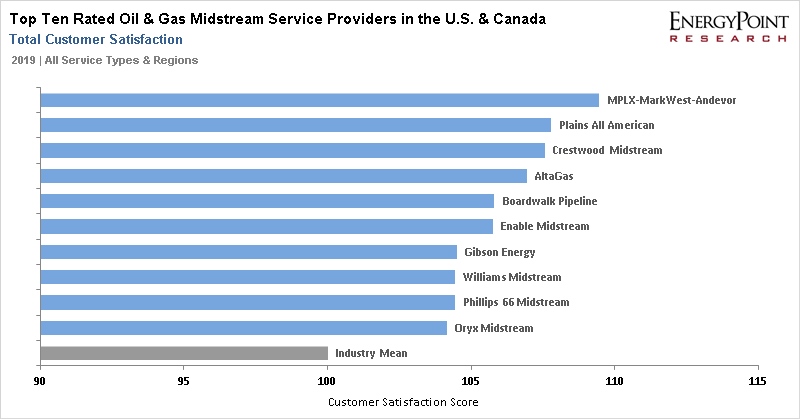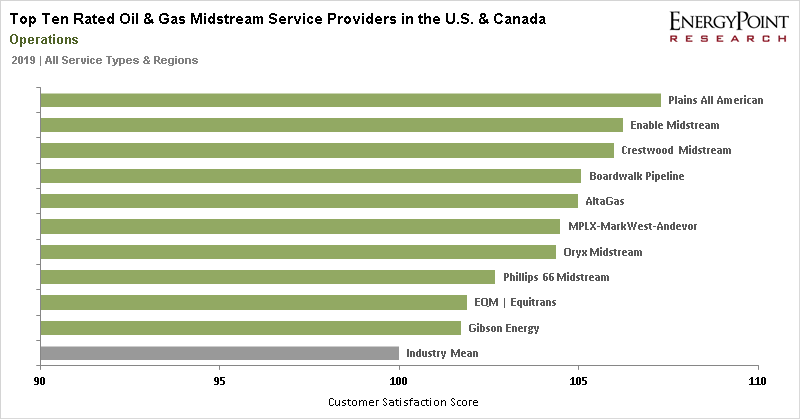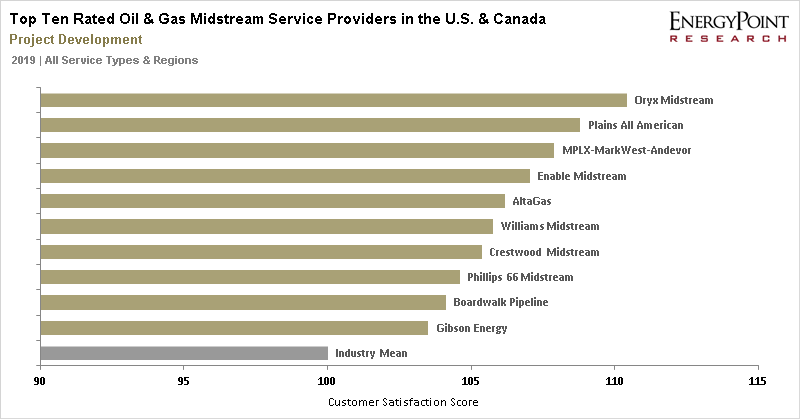 Other midstream providers rated in the survey include, in alphabetical order, Archrock, Buckeye Partners, CSI Compressco, DCP Midstream, Enbridge, Energy Transfer, Enterprise Products, EQM | Equitrans, Inter Pipeline, Keyera, Kinder Morgan, Lucid Energy Group, Magellan Midstream, NuStar Energy, ONEOK, Targa Resources, Western Midstream and Williams.
Survey Information
Survey respondents were asked to rate North American oil and gas midstream service providers with which they have had significant experience as customers within the last 24 months. The survey, which included more than 40 questions, was conducted in September and October of this year. It focused on the features and attributes shown to drive satisfaction among customers of midstream service providers, including pricing and contract terms, operations, project development, personnel, systems and administration, and corporate capabilities. Respondents also evaluated providers across multiple midstream service segments and U.S. and Canadian producing regions.
The survey results reflect the opinions of more than 4,000 customer evaluations concerning major North American Oil & Gas Midstream Services providers. For those categories and companies in which qualifying ratings exist, scores from EnergyPoint's 2016 and 2017 surveys were included in this year's category‑winner calculations at lesser weightings than 2018 and 2019 evaluations. In no case were 2016 and 2017 ratings assigned a weighting of more than 20 percent on a combined basis for purposes of calculating final ratings and rankings.
Full survey results are included in EnergyPoint's 2019 Oil & Gas Midstream Services Ratings & Analysis Report. The report includes detailed ratings from the survey for all 31 companies. The report also includes analysis of overall trends and drivers of customer satisfaction in the midstream service sector as revealed by survey results.
For questions related to the survey or report, contact EnergyPoint at info@energypointresearch.com or at +1.713.529.9450. Information concerning EnergyPoint's promotional policies and research offerings can be found below:
Licensing and Promotional Policies and Programs: www.energypointresearch.com/licensing
Ratings & Analysis Reports: www.energypointresearch.com/detailed-reports
About EnergyPoint Research, Inc.
EnergyPoint Research conducts independent research regarding customer satisfaction in the global energy industry. Founded in 2003, the firm publishes closely watched annual customer satisfaction ratings and rankings in several segments, including midstream services, upstream products and services , and gasoline retailing. For more information concerning EnergyPoint and its independently conducted surveys, visit the company's website at www.energypointresearch.com.
New service from OilVoice
Trip Shepherd
is for companies who need to track their staff in areas of risk.
It's free to use, so we invite you to
try it
.