Highlights

Kimmeridge Oil & Gas Limited plans first-half 2017 Broadford Bridge-1 exploratory well to test naturally-fractured Kimmeridge Limestone reservoirs as proven at Horse Hill-1
Within PEDL234, Nutech calculates a P50 Kimmeridge Clay Formation ("KCF") oil in place ("OIP") of 7.12 billion barrels ("BBO"), of which 1.71 BBO lies within Kimmeridge Limestones  
PEDL234 increases gross attributable P50 KCF OIP within UKOG's licence interests in the Weald by 72%, from 9.95 BBO to 17.10 BBO, representing  approximately 21% of Nutech's calculated Weald Basin-wide P50 KCF OIP of 81.95 BBO as announced in October 2015
PEDL234 significantly increases net attributable P50 Kimmeridge Limestone OIP within UKOG's licence interests in the Weald Basin by 348%, from 0.54 BBO to 2.41 BB
UK Oil & Gas Investments PLC (LSE AIM/ISDX: UKOG) announces that Kimmeridge Oil & Gas Limited ("KOGL"), has informed the Company that analysis by US petrophysical specialists Nutech, calculates that a most likely or P50 OIP value of 1.713 BBO lies within the Kimmeridge Limestone ("KL") reservoirs underlying its 300 sq km Weald Basin licence PEDL234 ("Licence"). As previously reported, these naturally-fractured limestones flowed oil at an aggregate stabilised flow rate of 1,365 barrels per day ("bopd") from the Horse Hill-1 ("HH-1") well, in which the Company has a 31.2% interest. HH-1 is located 17 km to the north-west of the Licence. The entire KCF within the Licence is calculated to contain a total gross P50 OIP of 7.120 BBO. The Company, via its ownership of KOGL, holds a 100% interest in the Licence.
With the acquisition of the Licence, together with the purchase of increased ownership in Horse Hill (PEDL137 & PEDL246) and Holmwood (PEDL143), the Company's estimated net attributable P50 total KL OIP within its licence interests in the Weald Basin, has increased by 348% since October 2015, from 0.539 BBO to 2.414 BBO.  Similarly, the Company's estimated net attributable P50 KF OIP has increased by 315% from 2.368 BBO reported in October 2015 to 9.831 BBO.
The gross P50 KL OIP contained within the Company's licence interests in the Weald Basin  increased by 82%, from 2.098 BBO reported in October 2015 to 3.811 BBO. Similarly the gross KCF OIP increases by 72%, from 9.952 BBO reported in October 2015 to 17.072 BBO. As illustrated in Table 2, below, this gross P50 KCF represents approximately 21% of Nutech's Weald Basin-wide KCF P50 of 81.915 BBO  as estimated and announced on 21 October 2015.
The results of Nutech's analysis are illustrated in Tables 1 and 2 below.
Nutech's OIP numbers should be regarded as Total Petroleum-Initially-in-Place, as defined by the Society of Petroleum Engineer's Petroleum Resource Management System of resource reporting (see glossary).
As previously stated by the Company, it is emphasised that the above estimated OIP volumes should not be construed as recoverable resources, contingent or prospective resources, or reserves.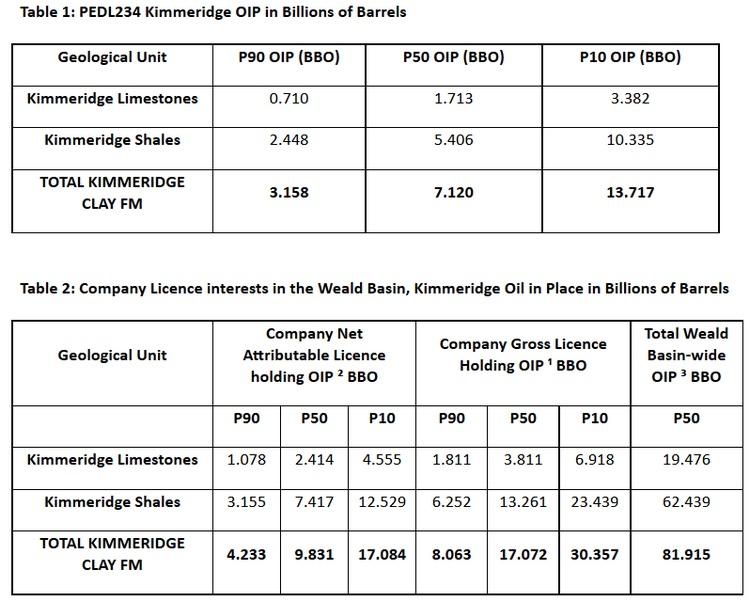 Notes:
total aggregate OIP within 9 UKOG interest Weald Basin licences covering 672 sq km, namely: PEDL137, PEDL246, PEDL234, PEDL143, PEDL233, PEDL126, PEDL070, PL235, PL211, within which UKOG has varying economic interests (see notes to editors for details). These 9 licences represent the Company's total licence and economic interests within the AOI detailed in note 3 below. Note that with the exception of PEDL234, the gross OIP utilised is as calculated and reported by Nutech in October 2015
net attributable equals the calculated gross OIP in each licence multiplied by % working interest in that licence and aggregated over the 9 Licences specified in note 1 above.
as calculated by Nutech and reported in October 2015 covering a 1261 sq mile Weald-wide Area of Interest (AOI) which includes the 9 licences detailed in 1 above and areas in which the Company has no licence or economic interests
Nutech Analysis
The calculated OIP values, shown in the tables above, were derived and extracted from a comprehensive revision to the Weald Basin-wide regional petrophysical and OIP model previously reported in October 2015. The model, utilising 85 wells over 1,261 sq miles of the Weald Basin, now incorporates a seismic-derived geological framework, plus a revised petrophysical analysis of key wells. Key learnings from the successful Horse Hill Portland and KL flow tests, reported in February and March 2016, have been incorporated.
PEDL234 Drilling Plans
KOGL now plan to drill the BB-1 well, located in the southern sector of the Licence during the first half of 2017. BB-1 is a deviated well designed to test naturally fractured conventional KL reservoirs within a "mirror-image" of the geological feature containing the proven Horse Hill Kimmeridge oil accumulation. As previously reported, the well site is constructed and the necessary planning and Environment Agency consents to drill are in place.
A further well is also planned, subject to normal regulatory approvals, before mid-2018, to test the eastern extension of the Godley Bridge Portland Sandstone gas discovery and an underlying KL oil prospect which is geologically analogous to the Company's Holmwood prospect, due to be drilled in 2017.
KOGL and the Licence
KOGL, a wholly owned subsidiary of UKOG, is the operator and 100% working interest holder of the Licence. As reported in June and August 2016, the Licence, the drilling site and regulatory permissions to drill, were acquired by the Company via the acquisition of the interests of Celtique Energie Weald Limited and Magellan Petroleum (UK) Limited.
The Licence straddles the Weald's Upper Jurassic basin centre and contains a thicker overall Kimmeridge section than seen underlying the Horse Hill licences. Numerous undrilled structural closures at Portland, Kimmeridge, Great Oolite and Triassic reservoir levels are mapped within the Licence.
The BB-1 target is, in UKOG's view, a lookalike to both the HH-1 oil discovery and the nearby Balcombe-1 oil discovery ("BC-1"), following the same overall structural trends. The BC-1, drilled in 1986, recovered 48 barrels of oil in one day from what the Company interprets to be the same naturally fractured KL reservoir unit which, as reported in February 2015, flowed at a stable rate of 901 bopd from HH-1. The recovered BC-1 KL oil was typed to a KCF shale source rock by Burwood et al in 1991⁴.
KOGL also map an extension into PEDL234 of the 1983 Godley Bridge-1 Portland sandstone gas discovery. Nutech's analysis of GB-1 indicates that the KL underlying the Portland gas accumulation are naturally fractured and contain a calculated OIP of the same magnitude as HH-1. As previously stated, KOGL now plans to commence drilling an exploration well prior to mid-2018 to test both the KL and further appraise the Portland gas discovery.
The results of Xodus' evaluation of the Godley Bridge Portland gas in place and recoverable resources are expected in due course.
Stephen Sanderson, UKOG's Executive Chairman, commented:
"The Nutech analysis securely underpins our rationale for the Licence acquisition and BB-1 drilling plans in 2017. This study, and the resultant four-fold increase in the Company's net Kimmeridge oil in the ground, clearly highlights PEDL234 as a potential flagship asset to sit alongside Horse Hill.
The BB-1 well is designed not only to test a geological mirror-image of the Horse Hill Kimmeridge oil discovery, but, more significantly, to also seek to establish whether Kimmeridge Limestone oil is truly an extensive resource play. If so proven, given the sheer size of the PEDL234 Licence, our 100% interest, and the existence of further multiple identified drilling targets, the impact of BB-1 success would likely be transformational.
Our wider strategy over the forthcoming 18-24 months aims to de-risk the overall Kimmeridge Limestone oil play, both commercially and geographically. Through the planned extended production testing, sidetrack and new well at Horse Hill, the goal is to establish that the Kimmeridge can be brought into commercial production. In parallel, our three-well exploration programme of BB-1, Holmwood-1 and an additional PEDL234 well, also aims to demonstrate that Horse Hill success can be replicated over the central "sweet-spot" of the Weald Basin. We look forward to this journey and eagerly await the start of BB-1 in the first half of 2017."
New service from OilVoice
Trip Shepherd
is for companies who need to track their staff in areas of risk.
It's free to use, so we invite you to
try it
.