According to report by Global Market Insights Inc., the offshore energy market—windfarms constructed on bodies of water—will surpass $60 billion by 2024. The reason for the expected growth is the worldwide quest for more sustainable and cleaner energy sources.
Currently, the largest offshore wind energy farms are in Northern Europe and Germany, but the market is gaining steam with the U.S. and China also investing heavily in the offshore wind energy market, according to Global Market Insights.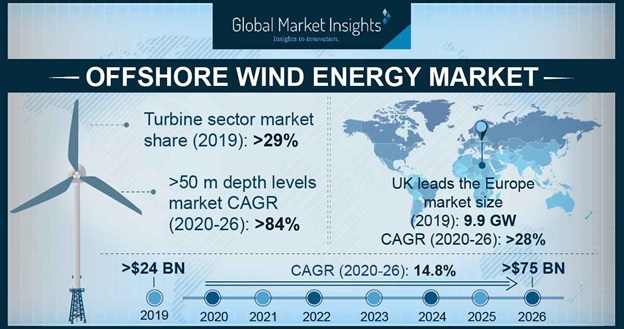 "In the current scenario, wind energy is considered among the mature energy sources, since its first deployment in Denmark," said Ankit Gupta, who is the research manager for energy and power with Global Market Insights. "The Global Wind Energy Council in 2016 claimed that the unconventional energy system will be led by wind. Subject to the fact, offshore wind industry has been gaining momentum, as to contribute majorly in achieving renewable energy targets across the globe."
At the end of 2017, the total worldwide offshore wind energy market had a capacity of 18,814 megawatts (MW). The largest sources are in the U.K. and Germany where two-thirds of the worldwide offshore wind energy farms have been installed.

But the U.K. and Germany are now facing some strong competition.
After the first offshore wind farm in North America was completed, the continent has been identified as one of the more lucrative markets. The Block Island Wind Farm offshore Rhode Island is projected to produce enough electricity to power over 17,000 homes.

Read More @ https://www.midstreambusiness.com/offshore-wind-energy-market-projected-exceed-60-billion-2024-1714071
New service from OilVoice
Trip Shepherd
is for companies who need to track their staff in areas of risk.
It's free to use, so we invite you to
try it
.