Growing crude oil production along with rising exploration activities to explore renewable energy sources will stimulate oil storage market size over the coming eight years.  The industry players are expanding their oil storage capacities and improving road infrastructure facilities to match the petroleum requirements of the global population. In addition to this, many countries have constructed and maintained strategic oil reserves for sustaining itself during emergencies which has notably enhanced the global oil storage industry trends.

Taking into account the various types of fuels, Oil Storage Market in mainly segmented into LPG, LNG, gasoline, middle distillates, aviation fuel, and crude oil. LNG commercial reserves in oil storage market are anticipated to collect a revenue of over USD 2.9 billion by 2025. High popularity of LNG reserves can be attributed to its eco-friendly and safe features plus its cost-effectiveness. Gasoline commercial reserve in the oil storage industry will exhibit an annual growth rate of more than 4.9% over the coming period of 2016 to 2025, mainly driven by its rising demand across the automotive sector. Aviation and LPG segments will also contribute lucratively towards the market growth.

Based on reserves, oil storage market is mainly divided into strategic and commercial reserves. Strategic reserves market is projected to grow significantly over the coming years, owing to its enhanced use by private firms in inventory storage along with its growing acceptance by government to fulfill the rising energy needs of the population during energy crisis. The commercial oil reserves industry will surpass a revenue of USD 18 billion by 2025, driven by the high demand for petroleum products.

Below are the regional highlights pertaining to the global oil storage industry:
China oil storage market share covered a volume of 13.25 million cubic meters in 2015 and is anticipated to register a CAGR of 5% over the period of 2016 to 2025, driven by the escalating demand for crude oil from refineries
Russia oil storage industry will also contribute significantly towards the regional growth, owing to the rising domestic production. As per the oil storage market analysis by Russian Ministry of Energy, in September 2016, crude oil production across the region had   increased by 11 million bpd
 
The Indian government is willing to install around 3 strategic crude oil reserves each of capacity 5 MMT in Visakhapatnam, Mangalore, and Padur over the coming years. This, in turn, will influence the India oil storage market share noticeably
 
U.S. industry is projected to grow at an annual growth rate of 4.5% over the coming eight years. Escalating production and exploration of shale gas will favor the regional growth
UAE oil storage market is projected to record a CAGR of 4% over the period of 2016-2025
 
The notable industry players include Snyder Industries, Inc., CST Industries, Inc., Assmann Corporation, Poly Processing, Red Ewald, Inc., ZCL Composites, Inc., Vopak, Belco Manufacturing Company, Tuffa Tank, Containment Solution, Ziemann Holvrieka Gmbh, L. F. Manufacturing, Inc., and Polymaster Group.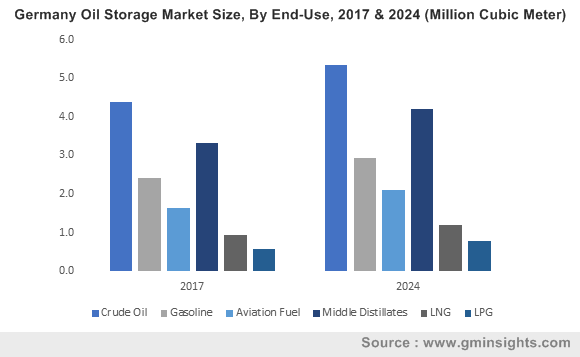 New service from OilVoice
Trip Shepherd
is for companies who need to track their staff in areas of risk.
It's free to use, so we invite you to
try it
.