Improving Operational Efficiency in the Oil & Gas Industry and Predictive Maintenance to Avoid Costly Downtime will drive the artificial intelligence in the oil & gas in the coming future.

The growth of the Artificial Intelligence In The Oil & Gas Market can be attributed to the Increasing Big Data Technology in the Oil & Gas Industry to Augment E&P Capabilities, Significant Increase in Venture Capital Investments, Growing Need for Automation is Driving the Oil & Gas Industry, Tremendous Pressure to Reduce Production Costs.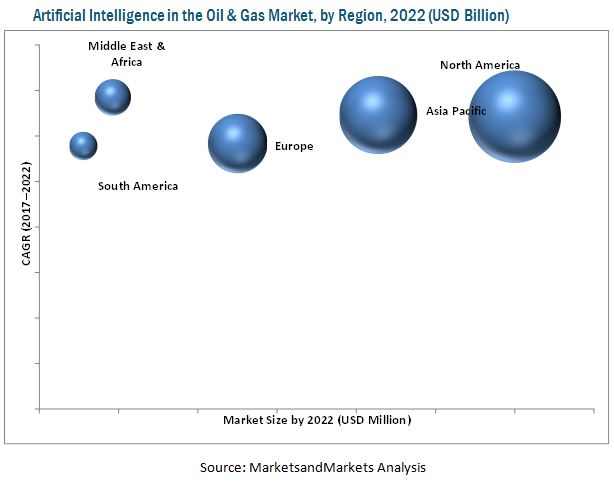 In the coming years, the market is expected to witness the highest growth rate in the North America region. Due to increasing adoption of AI technologies by oilfield operators and service providers and the strong presence of prominent AI software and system suppliers, especially in the US and Canada. The Middle East and Africa is the fastest growing market due to increasing investments in start-ups for AI implementation, which would further raise the demand for AI in the near future.

For more details Download the PDF Brochure:
https://www.marketsandmarkets.com/pdfdownload.asp?id=87246288

The research study of AI in Oil & Gas further segmented into Type, Function and Application

Type is classified into hardware, software, and services. The software segment led AI in the Oil & Gas market in 2016. Software in AI in the Oil & Gas market are applicable in upstream Oil & Gas exploration and production activities. The hardware segment in AI in the Oil & Gas market is expected to grow swiftly during the forecast period (2017 to 2022), mainly due to the increasing requirement for sophisticated hardware system configurations and components capable of handling massive data, including, but not limited to Tensor Processor Unit (TPU), Graphic Processing Unit (GPU), Resistive Processing Unit (RPU), Field Programmable Gate Array (FPGA), and Visual Processing Unit (VPU) to install software-based AI capabilities.

Function is classified into predictive maintenance and machinery inspection, material movement, production planning, field services, quality control, and reclamation. Preventive maintenance is the largest and one of the fastest growing segment in AI in the Oil & Gas market. Predictive maintenance aids in addressing costly downturn, by predicting maintenance schedules for equipment to prevent the possibility of equipment failures and, thus, save millions of dollars.

Application is classified into upstream, midstream, and downstream. The midstream segment is expected to grow at the highest CAGR in the global AI in Oil & Gas market during the forecast period. The growth in the shale oil and gas production in the US is creating the need for an expanded midstream network of pipelines, rail, tankers, and terminals. AI is widely used in the midstream sector to gather data during the transportation process through pipelines and provide the same to the human-machine interface to control the process. In the Oil & Gas industry these tools have been used to solve problems such as pressure transient analysis, well log interpretation, reservoir characterization, and well selection for stimulation, among others. 

Key players:

IBM (US), Accenture (Republic of Ireland), Google (US), Microsoft Corporation (US), and Oracle (US).