An Increased number of oil & gas leakages in production, pipelines, and storage tanks due to natural disasters and high pressure along with stringent government regulations for pipeline safety and security and expansion and upgradation of pipelines will drive the Pipeline Monitoring Systems in the coming future.

Download The PDF Brochure @ https://www.marketsandmarkets.com/pdfdownload.asp?id=138709351

The growth of the Pipeline Monitoring Systems Market can be attributed to the Increase in Incidence of Oil & Gas Leakage, Need for Secure Transportation of Resources, Rising Oil & Gas Demand in Developing Economies and Increased Government Regulations for Safety and Monitoring.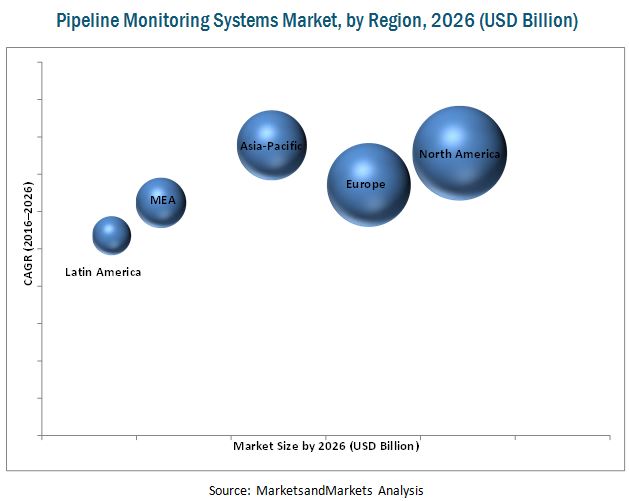 In the coming years, the market is expected to witness the highest growth rate in the Asia-Pacific region. The high growth in the region can be attributed to the high population in these country, along with new pipelines under construction, which will increase the demand for pipeline monitoring systems.

The research study of Pipeline Monitoring Systems further segmented into Technology, Application and Pipe Type

Technology is classified into Ultrasonic, PIGs, Smart Ball, and Magnetic Flux Leakage. The ultrasonic technology is projected to be the fastest-growing segment in the pipeline monitoring systems market during the forecast period. There is a growth in demand for ultrasonic technology in the pipeline monitoring systems sector as it is preferred by major oil & gas companies to detect small and large leakages.

Application is classified into Leak Detection, Operating Efficiency, and Pipeline Break Detection. the leak detection application is projected to grow at a higher CAGR from 2016 to 2026. This growth can be attributed to the increasing investments from oil & gas companies in pipeline monitoring infrastructures and safe transportation of the material through it. Pipeline leakage detection systems help in detecting damages across the pipeline infrastructure. These systems detect leaks on the basis of flow, pressure, temperature, and density.

Pipe Type is classified into Metallic, Non-metallic and Other pipes. The metallic pipes segment is projected to grow at a higher rate in the forecast period as it is the primary material used in a pipeline industry. This growth can be attributed to its high pressure carrying strength, for any material transporting through metallic pipelines

The growth in trend of the development of new devices and solutions to monitor the pipeline performance, optimize the resources, automate the functions, and safeguard the operations fuels the growth of pipeline monitoring systems. The next-generation technologies, which are the future of the pipeline monitoring market, comprise integrated, multi layered systems using disruptive technologies, Internet of Things (IoT), digital acoustic sensing, and connected pipelines.

Key players:

Siemens AG (Germany), Honeywell International Inc. (U.S.), BAE Systems (U.K.), Perma Pipes (U.S.), Transcanada (Canada), PSI AG (Germany), Pure Technology (Canada), Orbcomm Inc. (U.S.), Huawei (China), Pentair PLC. (U.K.), Atmos International (U.K.), Clampon AS (Norway), ABB Group (Switzerland), Future Fibre Technologies (Australia), Senstar Inc. (Canada), Syrinix (U.K.), Radiobarrier (Russia), TTK (France), Krohne Group (Germany), and Thales Group (France).

For more details refer: http://www.marketsandmarkets.com/Market-Reports/pipeline-monitoring-system-market-138709351.html
New service from OilVoice
Trip Shepherd
is for companies who need to track their staff in areas of risk.
It's free to use, so we invite you to
try it
.