It is said what CEOs most enjoy is a challenge with outsize reward. If so, Mark McCollum should be ecstatic. As the incoming CEO of Weatherford International, he is now tasked with resurrecting one of the more perennially promising, yet frustratingly underachieving, companies in the oil patch.

McCollum's predecessor, long-time CEO Bernard Duroc-Danner, built an organization with a global presence and broad portfolio. However, the company found itself adrift in recent years as a string of financial losses and shifting strategies undermined employee morale and depleted investor confidence.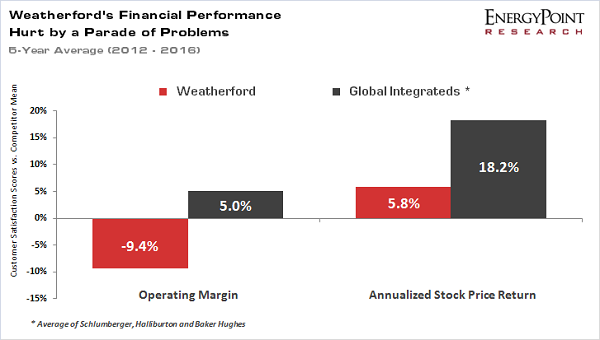 Weatherford's problems are not for lack of market interest. For years, customers mostly engaged with the company due to its pricing—which falls between larger integrated competitors and smaller regional suppliers. The result was a steady diet of lower-margin business.

While this positioning was far from ideal, it kept the company in the game. It also kept it its products and services in front of customers. All the while, Weatherford's promise remained its biggest asset as the company worked to build capabilities and a track record to rival its peers. Unfortunately, fulfillment of the promise never arrived.

What did arrive in 2014 was the worst industry downturn in a generation. And by Fall 2016, Duroc-Danner was out. In the ensuing months, the board and interim CEO, Krishna Shivram, moved to stabilize the company and restore confidence. A combination of equity offerings, debt restructurings, strategic partnerships—and a business mix tilted toward North American land—all helped improve the company's footing.

It's not clear the direction McCollum will take the company from here. Shivram and the board introduced a tentative strategy centered on well construction and production optimization. Although Weatherford has an existing portfolio of offerings in both segments, recent customer ratings suggest certain lines need some polish.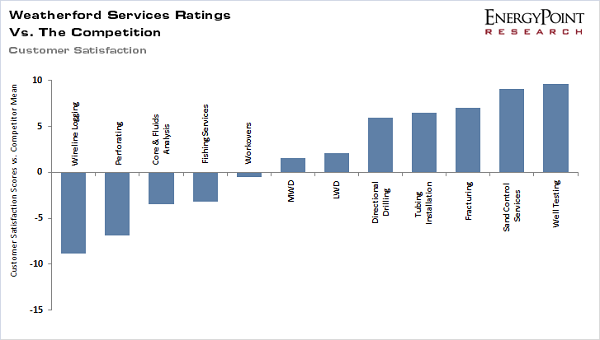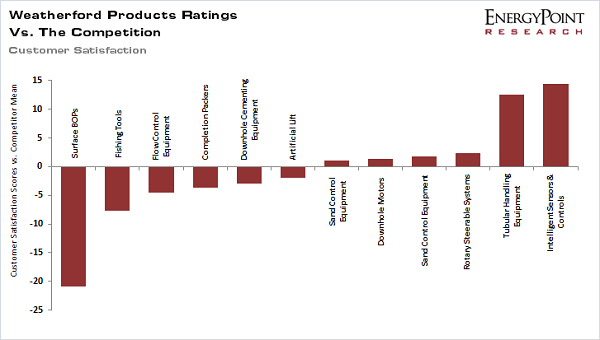 Still-evolving opinions as to what the next-generation supplier should look like further cloud the picture. The Schlumberger-Cameron and GE Oil & Gas-Baker Hughes mergers suggest a model that melds equipment and services into a seamless network capable of generating streams of data meant to improve performance.

At the other end of the spectrum is Halliburton, which seems to almost scoff at the notion that deep integration between services and equipment is the answer. Instead, its "asset-light" strategy seeks to create a nimble and adept competitor focused on delivering a range of products and services in an increasingly efficient manner.

We suspect McCollum, as a co-architect of Halliburton's strategy, will craft an approach favoring capital efficiency over integration. If so, expect the company to deemphasize  its recently announced partnership with Nabors. More importantly, anticipate a company with fewer irons in the fire competing on the strength of its individual products and services. In other words, less breadth and more depth.

The market place would doubtlessly benefit from a more independent-minded Weatherford—one that's primed to compete. For too long, the company has positioned itself as a copycat alternative to the larger global integrated suppliers. A steady hand at the helm and a more clear sense of mission might be just what customers need in order to view the company in a new light.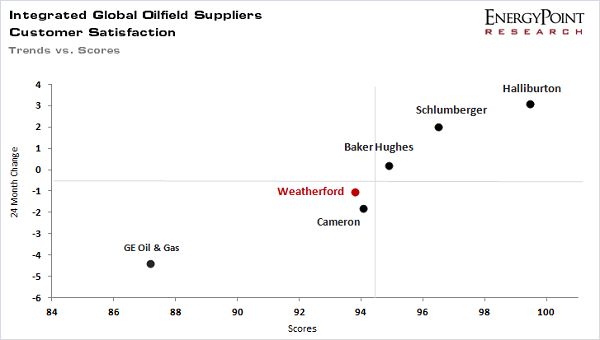 New service from OilVoice
Trip Shepherd
is for companies who need to track their staff in areas of risk.
It's free to use, so we invite you to
try it
.