Shrinking E&P budgets, weak commodity prices, the rise of environmental, social and governance (ESG) investing. The case for greater emphasis on customer satisfaction in the oil and gas industry has never been stronger. Providers of midstream services, and their stakeholders, ignore the evidence at their own peril.
Results from EnergyPoint Research's 2019 Oil & Gas Midstream Services Survey make the case. Companies rating in the top third of the survey register investor returns well in excess of the bottom third.
The top group consists of eight publicly traded companies: AltaGas, Crestwood Midstream, Enable Midstream, Gibson Energy, MPLX, Phillips 66 Midstream, Plains All American and Williams. Two private firms—Boardwalk Pipeline and Oryx Midstream—also rank in this cohort.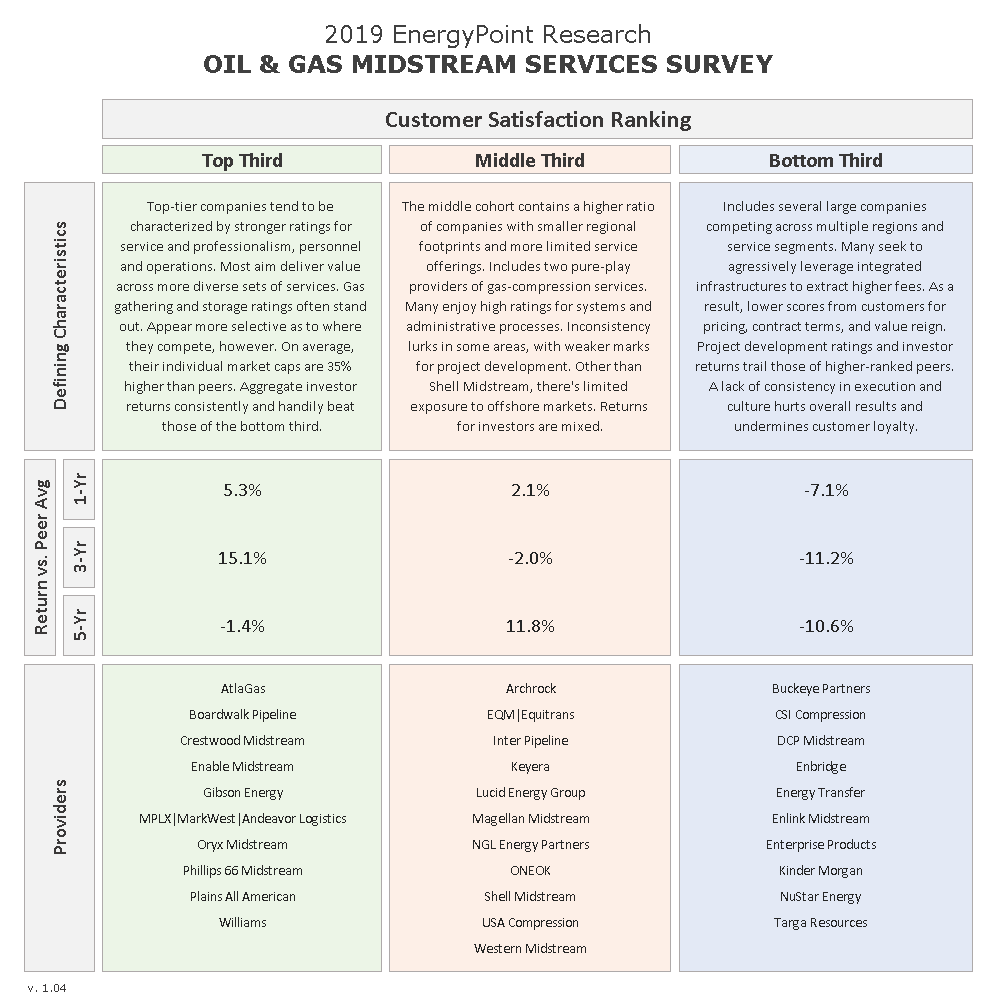 View in PDF
Average investor returns for the top tier have outpaced the bottom tier by 12.4 percentage points over the last year. Returns for Gibson Energy, Phillips 66 Midstream and Crestwood Midstream were especially strong. These companies garnered strong ratings in service and professionalism (S&P), personnel (PERS), and operations (OPS). All are material drivers of satisfaction.
Although competing in their fair share of midstream segments (i.e., service types), higher-rated providers tend to be more selective as to where they compete. It's depth-over-breadth. And it has its rewards—the group's market valuations are on average 35% higher than peers.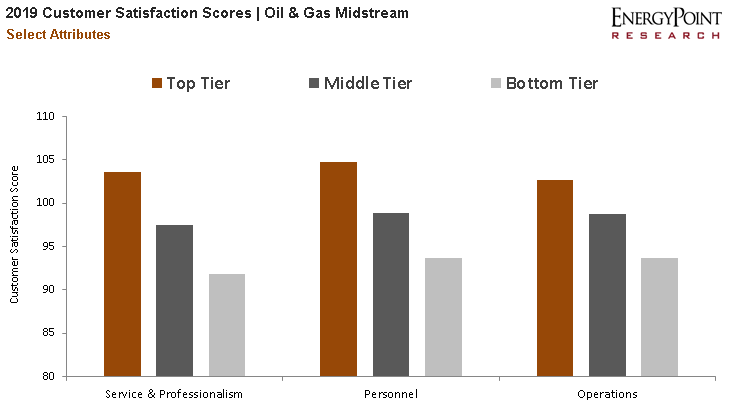 Contrast this with the vast footprints and "iron-in-every-fire" styles of certain lower-tier competitors. Energy Transfer, Enterprise Products and EnLink Midstream can be found in almost every corner of the oil patch. Yet their size and scope fosters an unwieldiness that hurts consistency and undermines customer loyalty.
Arrayed between the two groups are companies like ONEOK, Inter Pipeline and Magellan Midstream. While these mid-tier companies tend to tout higher systems and administration (S&A) marks, project development (PD) remains a weakness. Still, the group's investor returns beat those of the lower-tier across one, three and five-year periods.
Overall, customers are most satisfied with midstream companies in PERS, S&A. OPS ranked third. Within PERS, engineering and operations personnel rated highest. For S&A, scheduling, accounting and adminstrative functions rated strongest. In OPS, it was HSE practices.
Customers were least satisfied with providers' pricing and contract terms (P&CT). This extended most deeply to prices and contract terms vs. quality received. Respondents also rated providers relatively low for PD. Scores for value-adding projects and solutions were particularly low.
How a company ultimately allocates resources to address customer satisfaction should not simply be a function of whether it outperforms or underperforms in a particular area. Rather, the level of importance of attribute in determining overall satisfaction should be considered.
As the matrix below shows, for the midstream, OPS, P&CT and S&P are primary drivers of customer satisfaction. Top-rated companies use OPS and S&P as levers to extract higher fees and better terms. It's about value, not price.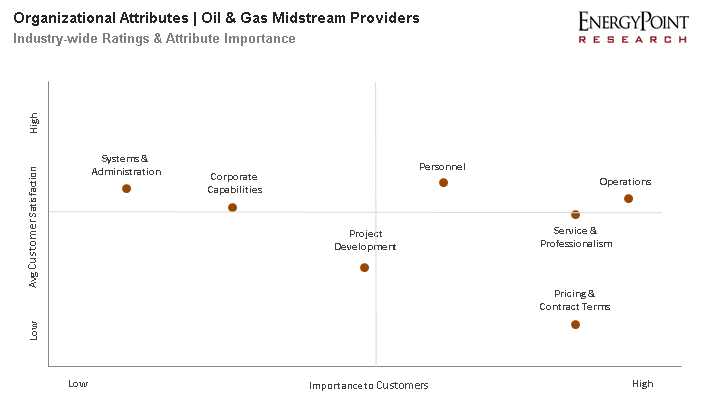 The upshot to all this? As priorities like sustainability and environmental stewardship move center stage, customer satisfaction will increasingly be tied to corporate reputation, employee satisfaction, earnings and other key performance indicators (KPIs).
Few can say precisely what the future holds. But companies that master the right things for customers will see their opportunity sets rise and financial results outperform. They shouldn't be surprised to see other aspects of their businesses also fall in line.
New service from OilVoice
Trip Shepherd
is for companies who need to track their staff in areas of risk.
It's free to use, so we invite you to
try it
.