Over the years technology has played a heralded role in the oil and gas industry. It still does today. Pick up any trade publication and chances are you'll find at least one well-worn tribute to its importance.
Yet, the fixation on hi-tech hasn't been without problems. It's even been value-destroying at times. We'd argue the industry's intractable struggle with financial returns is due, in part, to spending on technology that isn't justified.
Claims over the supremacy of new technologies abound. But as long as promotion trumps performance, oilfield customers will remain wary. As one astute observer puts it, "All new technology seems to be deemed 'commercial' these days until proven otherwise."
Many suppliers don't understand the tie between expectations and customer satisfaction. So they oversell their technical know-how. When performance does not match promises, the result is bad publicity and customer defections.
The idea that industrial science might be more siren than savior is not a new one. Jim Collins, in his influential management book, Good to Great, points out that most companies known for their use of technology don't see it as a driving force behind their success. Rather, it's an accelerator of success.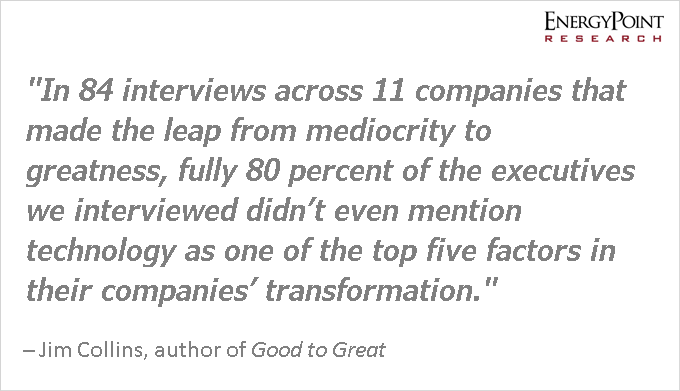 One problem is that smarter process is often mistaken for better technology. For example, although high-tech products and services played a role in the shale boom, more adroit versions of existing processes like horizontal drilling, PAD wells, and hydraulic fracturing are the real enablers. Multi-stage fracking, extended laterals and other design innovations keep the gains coming.
Even the best technologies carry risk. Providers regularly alter, and sometimes abandon, their top offerings. Worse, they abuse their leverage. Proprietary offerings are especially dicey since ugly incentives arise when customers lack options. Customers are often left spinning.
M&A is a big risk. In 2017, GE acquired Baker Hughes to create BHGE. At the core of the deal was GE's Internet of Things (IoT) Predix system, which promised better detection and prediction of wear and tear on equipment.
The conceit was that Predix would boost performance via better collection and analysis of real-time data. Access to GE's R&D and expertise in other industrial sectors was another selling point.
But less than a year later, GE backpedaled and announced it would divest of its interest in BHGE. This broke the critical tie to GE. In a later twist, GE announced it would also divest much its industrial IoT business.
Fortunately, the unraveling of the BHGE technology pitch arose so fast most customers never had a chance to take the bait. But the deal captures the hazards involved.
Similar risks exist in other industries as well. And the outcomes are often the same. The situation facing owners of John Deere tractors is particularly telling.
Deere is the market leader in agricultural  equipment. Like many companies, it now adds vast amounts of connectivity and embedded intelligence to its products. Customers pay premiums for these features, which purport to reduce maintenance costs, downtime, fuel usage, etc. There's even automation to handle steering. 
So, what's not to like?
Well, Deere now charges premium—some say draconian—maintenance fees for tractors that farmers previously serviced themselves. The connectivity features are even used to remotely lock equipment to enforce compliance.
Customers are incensed at the loss of control, and online chat rooms now teem with farmers seeking workarounds. Deere says their products are too sophisticated for customers to maintain themselves. We say, Welcome to the revolution.
Ownership and use of data are the other elephants in the room. Terabytes of maintenance data from across an industry are valuable. But suppliers collecting highly detailed operational data from customers carries greater risk. E&Ps seem particularly vulnerable.
Conundrums over technology and its value are not new to the oil patch. And reasons for caution have existed for decades. But a changing world requires customers think more critically and prospectively than ever. Those who don't could find themselves boxed in.
New service from OilVoice
Trip Shepherd
is for companies who need to track their staff in areas of risk.
It's free to use, so we invite you to
try it
.