Yes, it pays to keep customers smiling. Even in the midstream.
As midstream activity quickens in North America, customers are showing preferences for providers with strong operating and project-development skills. Professionalism also matters.
The need for solutions is diverse and widespread. Constraints in West Texas―ground zero of U.S. shale-oil production―crimp output. Natural gas in Appalachia needs conditioning and more outlets. Gulf Coast petrochemical and LNG facilities demand feedstock. Canadian producers beg for market access.
EnergyPoint Research's latest midstream customer satisfaction survey suggests a handful of companies are taking the initiative to solve these and other problems.
Leading the pack is MPLX–MarkWest Energy, which finished first overall with customers. The company ranked highest in total satisfaction, onshore gas gathering, HSE practices, Permian Basin and Texas Intrastate.
Enable Midstream was runner-up, ranking first in gas storage and in the Ark-La-Tex. Plains All American led in operations, onshore crude gathering, NGL transportation and storage, project development, and in the Onshore Gulf Coast. It took the third spot overall. Rounding out the top five were Andeavor Logistics (now part of MPLX) and Crestwood Midstream.
The survey reflects findings from more than 3,200 evaluations by qualified respondents at companies using midstream services. A total of 28 U.S. and Canadian midstream companies were included in the survey's final results.
Top Five in Total Satisfaction
Opportunities for midstream companies abound.
Take West Texas, where oil traded at a crippling $15 discount to WTI earlier this year due to bottlenecks. Plains All American was one of the first to offer a solution, expanding capacity of its Sunrise Pipeline from West Texas to Cushing by more than 300,000 barrels per day. The expansion was larger, and came on line sooner, than forecast.
Meanwhile, MPLX-MarkWest is breaking new ground in the Northeast. The company—which purchased Andeavor in October—is adding badly needed processing and fractionation capacity to service expanding Marcellus and Utica production. 
Top Five in Operations
Top Five in Service & Professionalism
Customers have clearly noticed. So have investors.
Unit prices of the five highest rated companies have handily outperformed peers. Year-to-date, the group has delivered an average return of +13.5%. In contrast, the Alerian MLP Index (AMLP) is down 9.1% over the same period.
This isn't the first study to suggest satisfied customers are good for financial performance—just the latest. The tie between customer ratings and shareholder returns is well documented.
The reasons are simple—customers prefer working with providers that consistently meet their needs and exceed expectations. In competitive markets, these favored suppliers get the last look. And they win the ties.
The result is faster growth, higher margins, stronger cash flow, and greater visibility to the business. Everybody wins—customers, midstreamers and investors.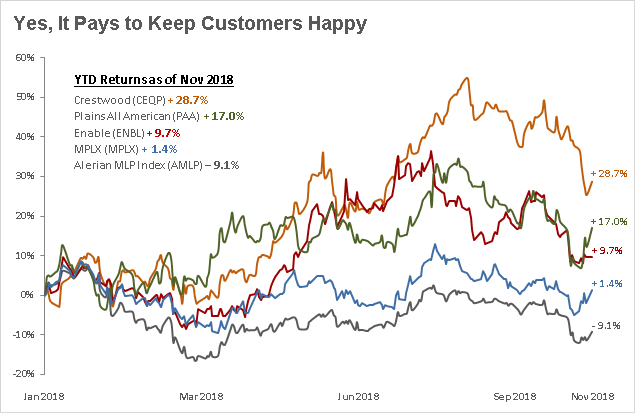 Other companies rating first in at least one category in the survey include:
— Archrock in gas compression services and the U.S. Rockies & San Juan Basin;
— Enterprise Products in NGL fractionation, gas processing and treating, and gas and NGL purchasing;
— EQT – Rice Midstream in the Appalachian – Marcellus region;
— Inter Pipeline in systems and administration;
— Keyera in Canada;
— Phillips 66 Partners in the Mid-continent region, and;
— Williams in the Gulf of Mexico
New service from OilVoice
Trip Shepherd
is for companies who need to track their staff in areas of risk.
It's free to use, so we invite you to
try it
.