The latest buzz that the U.S. gas pipeline infrastructure market is ablaze with is Williams Pipeline Partners' approval application for its Transco natural gas pipeline project with FERC (Federal Energy Regulatory Commission). The former, a key provider of energy infrastructure in the U.S., aims to fulfill the escalating requirement for natural gas in Northeastern U.S. In addition, the project is anticipated to meet the surging demand for heat & power generation across states such as New York and New Jersey. Recently, Williams Pipeline L.P. even commenced the construction of an extension of the Transco natural gas pipeline project – called the Atlantic Sunrise pipeline project, win Pennsylvania, a major program that may have a marginal but effective impact on U.S. gas pipeline infrastructure market. The underlining developments characterizing gas pipeline infrastructure industry currently, especially across developed economies such as the U.S., are certain to spur the market trends in the future.
 
U.S. Gas Pipeline Infrastructure Market, By Operation, 2016 & 2024 ('000 Kilometers)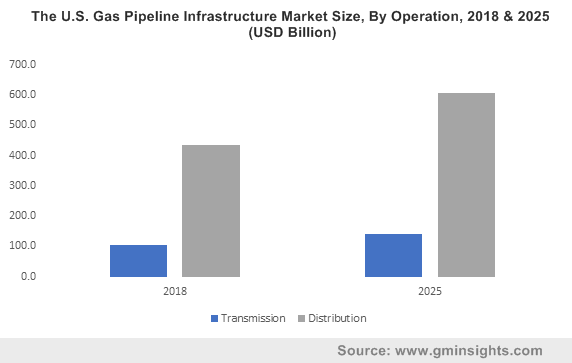 The profound influence of M&As on global gas pipeline infrastructure market has not been lost of major companies partaking in the industry share. Citing an instance, Pembina Pipeline, a major player across petroleum & natural gas industry based in Canada, declared its acquisition of Veresen Incorporation, a giant player across gas pipeline infrastructure market, for USD 9.7 billion. The deal has been forecast to provide a major impetus to Canada gas pipeline infrastructure industry share, in addition to propelling the development of the power infrastructure sector across the country.  

Speaking along the same lines, Vereseen Incorporation has recently filed an application with the U.S. FERC for approving its Jordan Cove and Pacific Connector project to construct an LNG export terminal in Coos Bay for transporting natural gas from the Malin Hub to LNG export terminal. As per reliable reports, the firm is optimizing its pipeline design in accordance with the ecological standards & regulations set by the government to reduce the greenhouse effects. Strategic initiatives similar to the aforesaid are likely to augment U.S. gas pipeline infrastructure market growth.
Gas pipeline infrastructure market, apart from the U.S., has established its footprints across other major geographies as well. Russia's Rosneft, a state controlled oil firm, has announced investments worth USD 1 billion in gas pipeline constructions across Kurdistan in Iraq, in a bid to have the region turn out to be a major natural gas exporter to Europe and Turkey. The natural gas pipeline, which is predicted to be constructed in 2019, will handle nearly 30 billion cubic meters of gas exports each year, apart from having to supply natural gas to domestic consumers. This project may, in all probability, have a sizable impact on Europe gas pipeline infrastructure industry, given that it would amply fulfill the demand for natural gas across the Europe belt.
The U.S. gas pipeline infrastructure market has been anticipated to witness a lucrative expansion in the years ahead, subject to the escalating demand for natural gas in the Southwestern and Northeastern parts of the United States. It has been observed that there has been a significant rise in the pipeline exports to Mexico as well, which would be another factor that will suitably impel the regional industry share.

Experts cite that Europe gas pipeline infrastructure industry has bright growth prospects in the ensuing years as well, subject to the immense contribution from regions such as UK and Germany. UK gas pipeline infrastructure market, for instance, was worth USD 50 billion in 2016, and is expected to carve out a lucrative growth path in the years ahead. The rising number of government initiatives to decommission existing routes of natural gas transportation and replace them is projected to profitably stimulate Europe gas pipeline infrastructure industry share.
Major players such as General Electric, Enbridge Incorporation, APA Group, and DCP Midstream Partners have been attempting to considerably strengthen their foothold in gas pipeline infrastructure industry, with the adoption of numerous tried-and-tested as well as novel growth strategies. According to a research report compiled by Global Market Insights, Inc., gas pipeline infrastructure market size is likely to be pegged over USD 2 trillion by 2024.
New service from OilVoice
Trip Shepherd
is for companies who need to track their staff in areas of risk.
It's free to use, so we invite you to
try it
.