Torchlight Energy Resources Inc. (TRCH:NASDAQ) has been a boring and frustrating investment for shareholders up to now, and the reason for this is that it has been "spread rather thin" trying to develop two major and distinct projects at once, and a continuation of this situation would either result in going into debt or in stock dilution, and it is this threat that has restrained its stock up to now. We have dabbled with Torchlight at times over the past several years, but never really got very far with it and last went for it in early March when it was at a reasonably good entry point.
However, things are now changing fast, with the company announcing on the 9th of this month that it will be selling the Hazel Project in the Midland Basin, and using the proceeds to concentrate on developing its larger Orogrande Project. This makes a lot of sense, because having partially proved up its 9,600 acre Hazel project, the company should be able to sell it for a good price and use the proceeds to advance the much larger 90,000 net acre Orogrande project without being limited by liquidity problems. This was always the plan but it seems that a good many shareholders either couldn't grasp it or wouldn't believe it. It is thought that the Hazel Project may sell for about $25 million, and when you add into this that Torchlight is raising another $5.37 million through a funding, it is going to be in an enviable position before much longer.
So we can see that the brakes are likely to come off the stock before much longer because the company is engaging in what looks like a highly effective strategic redeployment of its assets so that it becomes more efficient and effective in moving towards its goals. One attractive asset is being sold off to raise funds to further the development of the larger one, a significant public offering to rise funds immediately is due to close tomorrow and expected to be fully subscribed, and finally, just for good measure, the fracture stimulation date for an important horizontal well in the Orogrande has been set for today, April 23rd. As they say "It's all looking good in the Hood, so how do the latest charts look? In a word great, as we will now proceed to see.
A 10-year chart enables us to grasp the big picture. On this chart we can see that after Torchlight started trading late in 2010, it went through some wild swings through to early 2015, after which it settled into what we can now see is a large Cup & Handle base pattern, and since Cup & Handle is now looking complete, a breakout from it is to be expected soon, and the strong volume indicators shown on this chart are a compelling indication that the breakout will be to the upside. Once it does break out, the immediate upside target will be the 2014 highs in the $5.50 area. Clearly, with a breakout pending and the price near to the support shown at the bottom of the Handle, we are at a very good entry point here.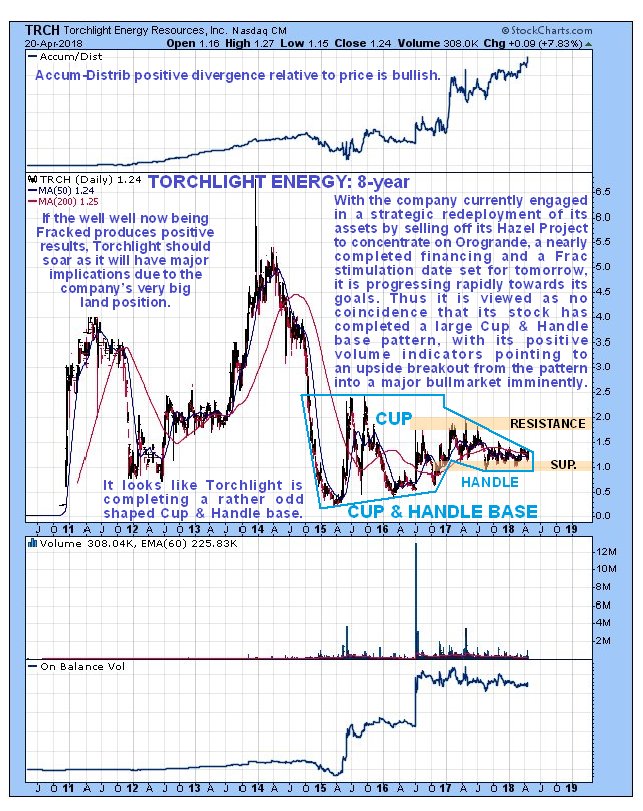 The 2-year chart enables us to examine the latter part of the Cup & Handle base pattern in more detail. On this chart we see that after making contact with the bottom of the Cup during 2016, the price advanced some way before sloping off into Handle part of the pattern during 2017, which has continued to form right up to the present. All the while the Accumulation line has been creeping higher and its rate of rise has increased in recent weeks as it has made new highs, which is most auspicious and strongly suggests that an upside breakout from the base pattern will occur before much longer.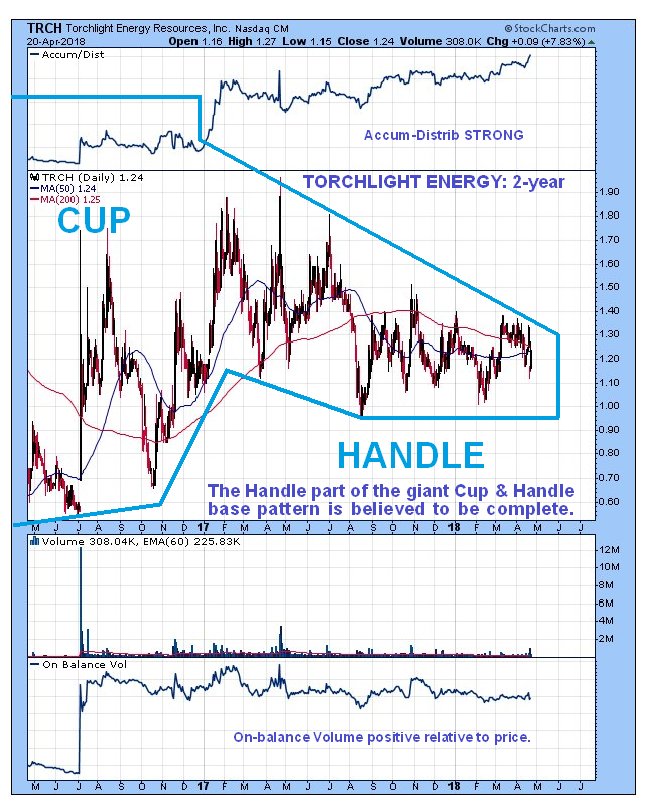 While the 6-month chart is generally of little use technically, it does show some important developments in the recent past, with a couple of large bullish white candlesticks showing up last week as volume picked up. We can also see the current tight bunching of the price and moving averages, with the prospect of a bullish moving average cross imminently if the price advances from here as looks likely, so this is a potent setup. Finally as we can see from the position of the MACD indicator, it is not at all overbought here so there is plenty of immediate upside potential.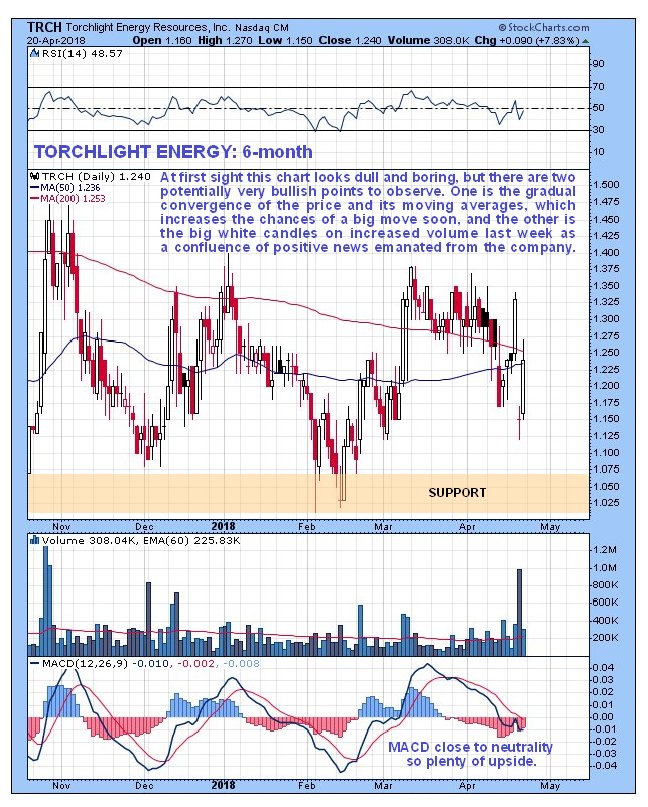 Conclusion: everything appears to be in place here for a breakout by Torchlight from its completing large base pattern into a dynamic advancing phase, which as we have seen fits with the improving fundamental prospects for the company. Holders should therefore stay long and it is rated an immediate strong buy.
Torchlight Energy website.
Torchlight Energy Resources Inc., TRCH on NASDAQ CM, closed at $1.24 on 20th April 2018.
Clive Maund has been president of www.clivemaund.com, a successful resource sector website, since its inception in 2003. He has 30 years' experience in technical analysis and has worked for banks, commodity brokers and stockbrokers in the City of London. He holds a Diploma in Technical Analysis from the UK Society of Technical Analysts.