Charting oil, technical analyst Clive Maund expects a relief rally for the commodity, and discusses some strategic moves.

In light of what happened in the markets on Friday, with the broad market S&P500 index closing with a Reversal Day on its chart calling for some sort of a relief rally, that is likely to drag the oil sector along with it for the ride, we have to consider whether it makes sense to take profits in our inverse oil ETFs, with a view to buying them back later at a better price. Our original plan as you know was to stick with them for much bigger gains than we have made so far, as set out when they were recommended a week ago in Oil Set to Tank. Having observed the risk of a reversal during the afternoon on Friday, our first priority was to offload our USO Puts at very good prices, as they would be the first and biggest casualty of a reversal.
The answer to the question regarding whether we should take profits in these inverse ETFs is yes, we should. The reason being that the broad market has signaled that it is likely to have a relief rally in coming days/weeks before then dropping to new lows, and drag oil along for the ride, despite oil's COTs and Hedgers' charts still looking awful, although oil is not expected to get far before it rolls over and drops again. However, since our inverse ETFs are leveraged, that could still inflict damage.
Take profits on all oil inverse ETFs and any Puts still held. The plan is to buy them back in days/weeks after a modest sector rally on the back of a broad market rally.
Now we will quickly review the relevant charts.
Oil stocks look set for a significant rally after the steep drop of the past two weeks.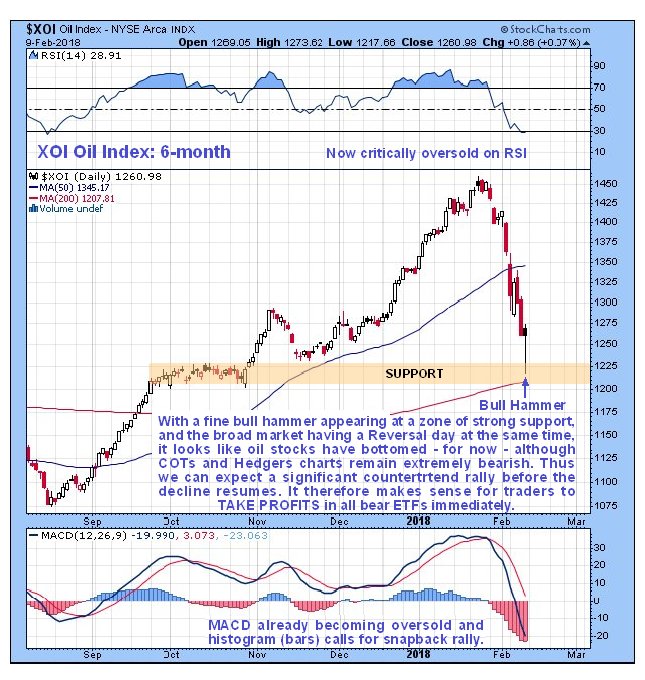 We have a nice little profit in the twice leveraged Crude Oil Double Short ETN, DTO, which should be taken.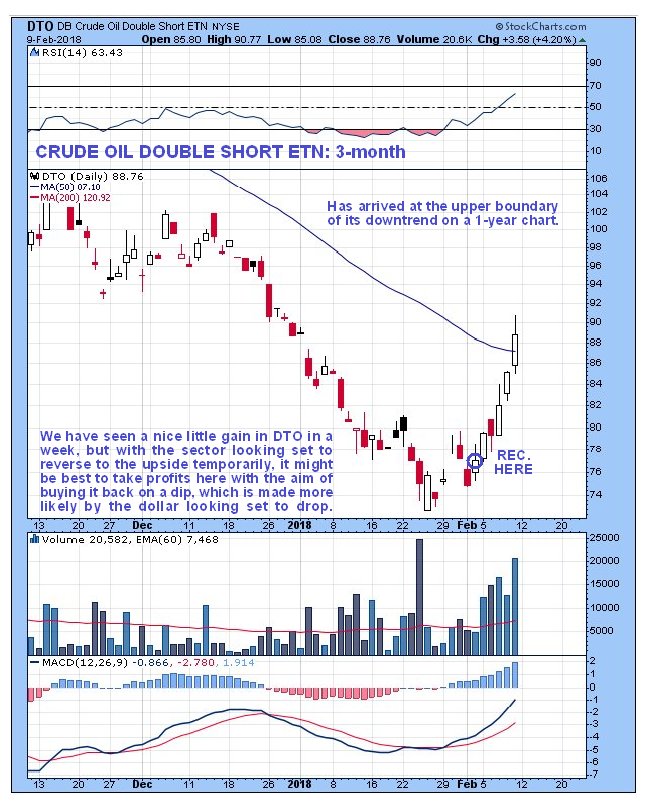 The 1-year chart for DTO shows that it has arrived at the upper boundary of its downtrend, another reason to step aside.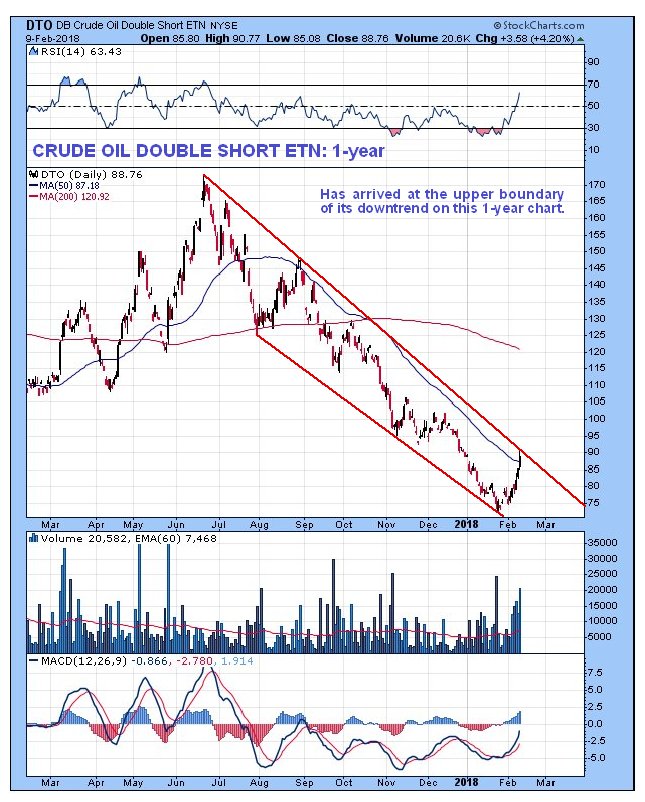 The more leveraged VelocityShares 3X Inverse Crude Oil ETN, DWTIF, made bigger gains, of course, and it too should be sold.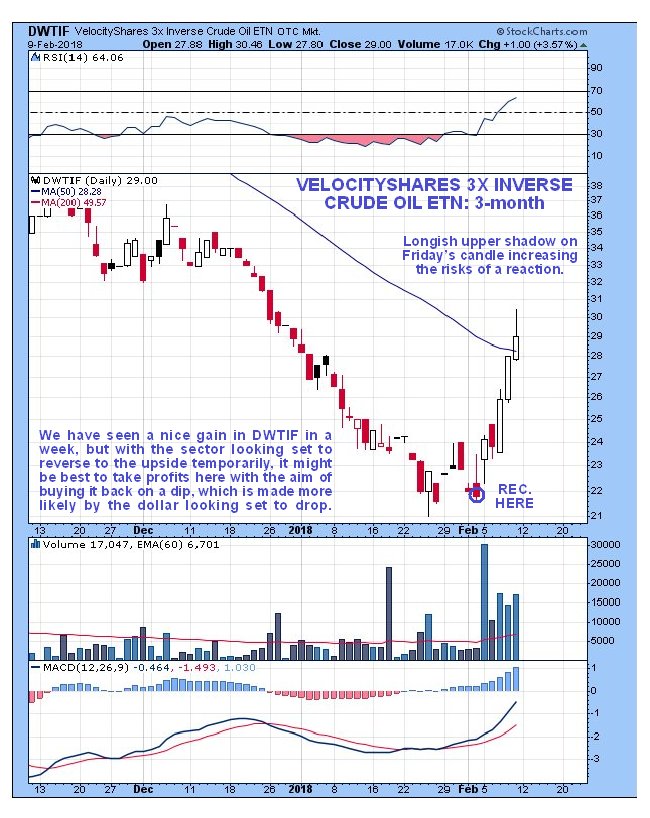 Also mentioned was the twice leveraged ProShares Ultrashort Crude Oil, SCO, which did well, performing a little better than DTO, which should also be sold.
Finally, those of you who are of a more sporting disposition and want to "keep the ball in the air" during the expected sector countertrend rally, might fancy a flutter on the succinctly named Direxion Daily S&P Oil & Gas Exploration & Production Bull 3X Shares, GUSH, which put in a Reversal Day Friday after a brutal decline. This could make big gains quickly on the countertrend rally believed to lie ahead. Its 6-month chart is shown below.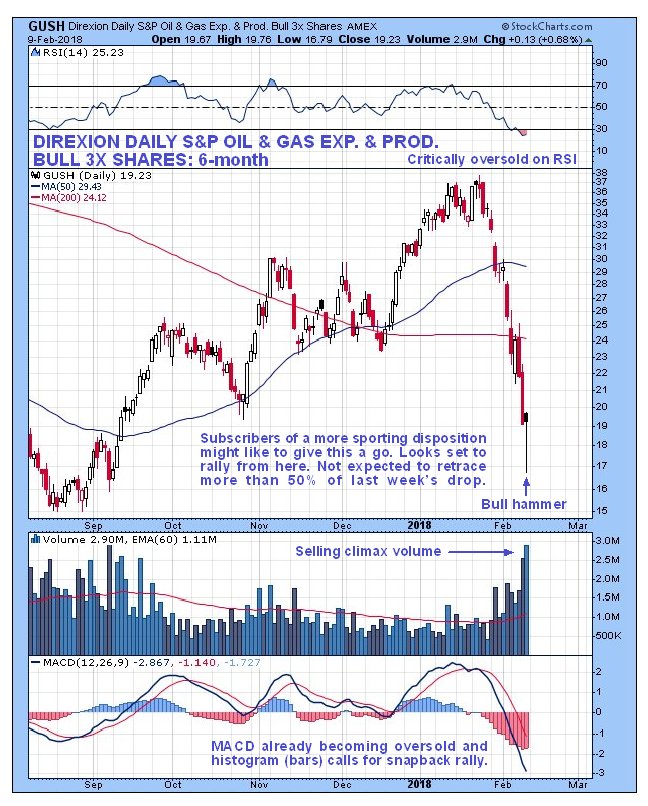 The United States Oil Fund (USO) Puts also recommended a week ago in Oil Set to Tank were reviewed separately on the 9th in Review of our MASSIVELY PROFITABLE USO PUT TRADE.
Clive Maund has been president of www.clivemaund.com, a successful resource sector website, since its inception in 2003. He has 30 years' experience in technical analysis and has worked for banks, commodity brokers and stockbrokers in the City of London. He holds a Diploma in Technical Analysis from the UK Society of Technical Analysts.
New service from OilVoice
Trip Shepherd
is for companies who need to track their staff in areas of risk.
It's free to use, so we invite you to
try it
.