Torchlight Energy Resources Inc. (TRCH:NASDAQ) has fallen out of favor with investors and is largely off the radar, which is understandable considering that it has done nothing for its investors for two years. However, the company still has potential and it is thought that there is an increasing chance that there will be some positive news soon, with the current lack of interest increasing upside potential.
Its 8-year chart looks much the same as when we last looked at it back in June, so the preparation of this chart was largely a copy and paste job. There is one very noteworthy difference, however, which is that the stock is considerably cheaper. When we looked at it back in the summer it was priced at $1.66, and at that time it was written that it was worth accumulating on any near-term weakness, and that we have certainly seen as it is now priced at $1.12. Observe on the chart how it continues to look like it is basing, within a large bucket like pattern, and the positive volume pattern and volume indicators bode well for an eventual breakout from this pattern, which after all this time could now be drawing closer.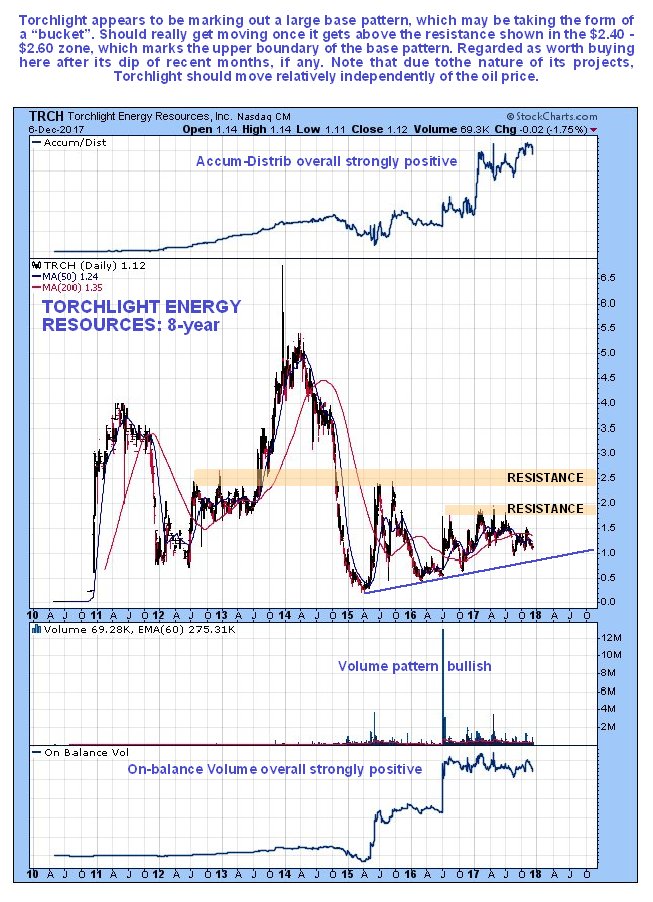 Turning now to the 6-month chart we see that the intermediate downtrend from early November has brought it down to an attractive price, especially as it has arrived back at a support level. While there is some chance that it could drop back further to the C0.95 area, which is another support level, that is made less likely by the quite high volume on the "inverted hammer" candlestick a few days back.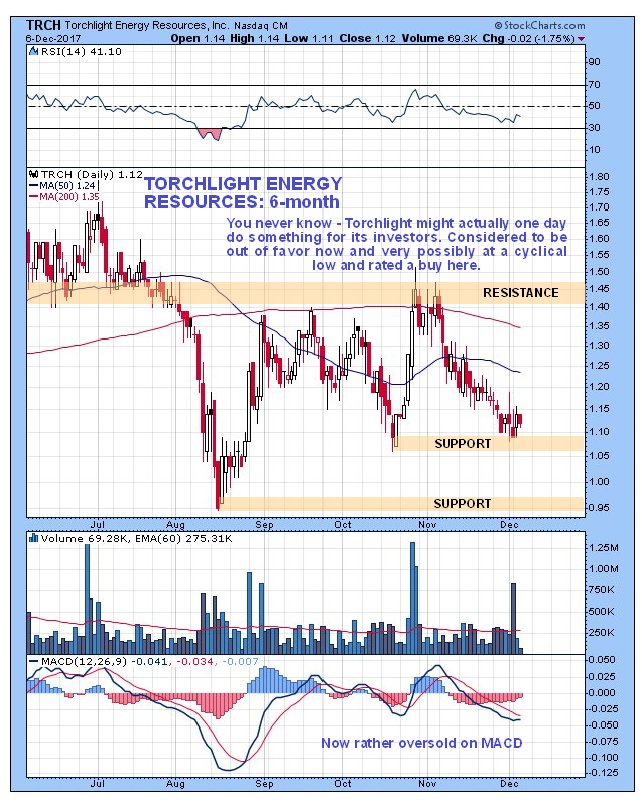 Our last 3-month chart is a relative chart that shows how Torchlight has been underperforming oil since late October, and thus looks due for a cyclical change of fortune, which may have started in recent days— perhaps management realize that now would be a good time to "throw investors a bone."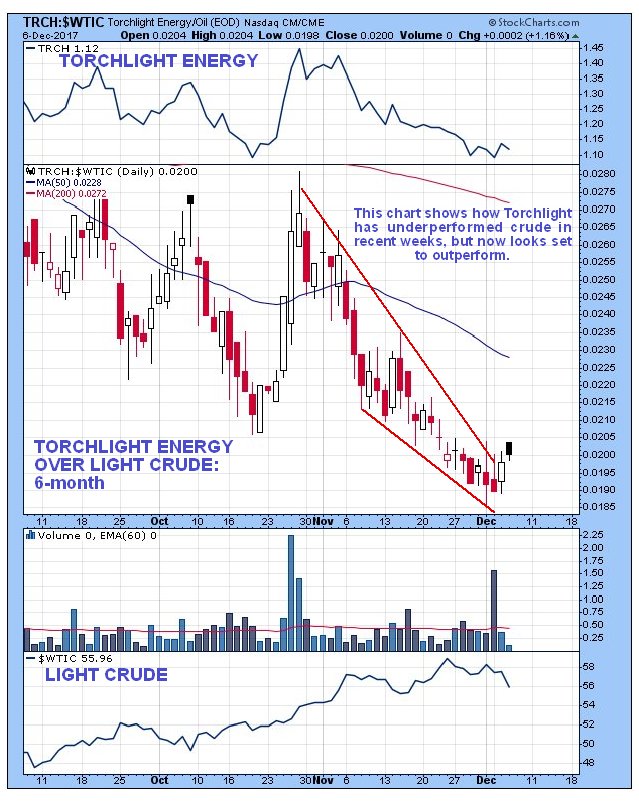 Conclusion: Torchlight looks out of favor here and it is suspected to be at a cyclical low. Therefore rated a buy as any news out could drive it sharply higher—even if it doesn't break out of its large base pattern and only makes it back up to its highs earlier this year, it would result in good percentage gains from the current low price. Point for a stop is $1.04.
Torchlight Energy website
Torchlight Energy Resources, TRCH on NASDAQ CM, closed at $1.12 on 6th December 2017.
Clive Maund has been president of www.clivemaund.com, a successful resource sector website, since its inception in 2003. He has 30 years' experience in technical analysis and has worked for banks, commodity brokers and stockbrokers in the City of London. He holds a Diploma in Technical Analysis from the UK Society of Technical Analysts.