Oil prices are rebounding from their collapse that began in 2014. But for upstream suppliers, it's no time to celebrate.

Despite improved conditions, it's going to take more than $60 crude to rebalance the oilfield. Structural oversupply—too many players chasing too few dollars—is the problem.

Redesigned processes mean onshore operators are much more productive. They spend far less on products and services to produce a single barrel of oil than just three years ago.

Conditions are no better offshore. Drilling contractors, ignoring lessons of the past, borrowed heavily to build new rigs (many on spec). As a result, fleets of capable-but-costly rigs now flood the space. Only the best get the work.

The buyer's market has in many cases pushed prices for oilfield products and service to the bleeding edge. Suppliers are able to keep their doors open, but just barely.

Nowhere are the effects of oversupply more evident than in vendors' financial results. Beginning in 2015, operating margins fell rapidly, eventually turning negative. A string of debilitating losses followed.




There's little reason to believe things will improve soon. According to John Van Leeuwen, head of Lion & Stutz's consultancy business, "While older, less efficient equipment has been left in the back lot to rust, it's not enough. Too many oilfield suppliers are still willing to price near breakeven to stay in business. Without a material oil price increase, the only solution may be further bankruptcies."

Unfortunately, suppliers are hindered by struggling customers. As oil prices fell, E&Ps were slow to adjust to the new reality. Heavy losses and rising debt levels ensued. To make ends meet, they demanded (and received) deep price cuts from suppliers. There's been little relief since.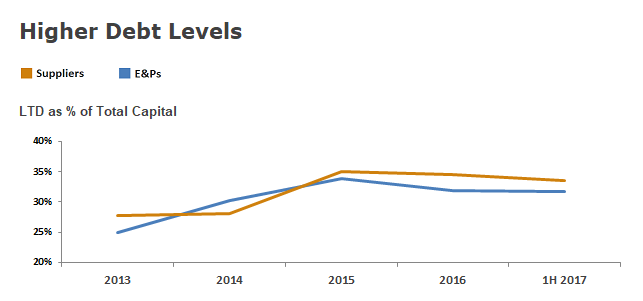 To some extent, the industry is paying the price for the decade of good times leading up to 2014. As oil rose from $30 to over $100, suppliers enjoyed unprecedented growth and profitability. To the professionals and workers drawn to it, the oilfield was the gift that kept on giving.

When prices collapsed in 2014, the industry was ill prepared to read the tea leaves. In particular, it was too slow to recognize the severity of the downturn. It was also too quick to predict recovery.

Wide-eyed optimism eventually led to today's huge inventory of drilled-but-uncompleted (DUC) wells in North America. Most will begin producing over the next 18 months as completion bottlenecks fade and costs fall. In the meantime, the looming surge in production sits like a wet blanket on oil prices through 2019.

Meanwhile, investors have soured on the sector—even as the broader market hits new highs. The skepticism is understandable. E&Ps have shown little in the way of discipline, with production prioritized over returns. A new fixation on breakevens has done little to restore confidence.

It's not hard to see where all of this is going. Given the languor of commodity-prices and the general frailty of the industry, suppliers need to resize and reprioritize if they are to survive.

Many still operate in a different era, too broad in scope and overly dependent on debt. They underinvest, employ aging systems, and struggle to attract qualified employees. As currently structured, few suppliers stand a chance of consistently covering their cost of capital. And customer satisfaction badly trails that of other sectors.




In the face of today's oversupply, some suppliers will choose to roll the dice and expand their organizations in new directions. Flying leaps into the unknown will be sold as shrewd moves. In most cases, the hoped-for results won't pan out.

For example, Schlumberger's acquisition of Cameron Int'l is a costly effort to link disparate well-site processes via a single neural network. While alluring, the strategy has met skepticism from customers loath to commit to expensive platforms that limit their options. It's not clear the hurdles can be overcome.

Schlumberger is also blurring lines with customers. By pursuing greater numbers of production-sharing arrangements, even as it ramps up direct E&P investments, it's taking on conflicts-of-interest and commodity-price exposure it doesn't need. It's a strategy that could damage the company's reputation.

The smarter path for most suppliers is to develop tighter focus while lowering costs. This means selling, spinning off, combining or shutting down underperforming units. For some, choosing between the dynamic, but volatile, North American market and slower-moving, but larger, international markets is another potential decision point.

The best outcome would be a greater number of specialized venders. Such organizations generally excel in quality, service and financial performance. They also tend to rely less on debt, making them better able to weather industry cycles. Companies like Core Laboratories, Oceaneering, Dril-Quip, Newpark Resources, Frank's International and Pason Systems already fit this bill.

The financial performance for this breed of supplier is revealing. Since 2013, the group's margins, profitability and returns have been well above those of peers. And their stock-price declines over the same period are less than half that of the Oil Service Index (OSX).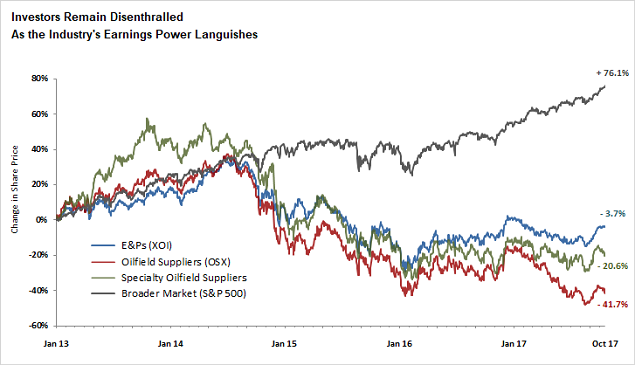 In the end, the advantage lies with suppliers that accept that the market is oversupplied, understand that it will likely remain so for the foreseeable future, and adapt accordingly.

For some, this means a more narrow scope. For others, it means improving quality. For still others, it means wringing out costs via consolidation. Regardless of the approach, it's time suppliers get real about the road they face.
New service from OilVoice
Trip Shepherd
is for companies who need to track their staff in areas of risk.
It's free to use, so we invite you to
try it
.